◄ BACK
Updates
---
March 26, 2005
Starting next week, Tamara will be performing at the Buddies in Bad Times theatre in Toronto in The Dirty/Beautiful by Stephen Massicote, presented by Crow's Theatre. It's running March 29-April 19. They've got $19 student tickets. Otherwise tickets are either $25 or $30, except for Sundays, which are PWYC. And...I think that's about it. So, go see it!
January 29, 2005
Well, long time no update! There are plans for this site to move elsewhere...but this plan has been in the works for a year, so who knows when I'll actually get to moving everything. It will happen though.
I ran into Tamara at a performance of The Unnatural and Accidental Women and she told me she's going to be holding off on performing while she finishes putting together her new album, which I believe will be her first in English. I'll make sure to update when I have more information about that.
Tamara's sister Jennifer is in the new North of 60 movie, Distant Drumming. It airs in CBC Sunday January 30 at 8pm.
That's all the updating I can think of for now. Hopefully I'll have more soon.
September 4, 2003
During the week of August 18th, Tamara performed in Toronto and Brantford to help celebrate the release of Santee Smith's new CD Kaha:wi (pronounced, Gah-ha'-wee). Tamara was a part of a choreographic showcase that went along with the CD launch. She was dancing along with April Doxtator, Joshua Mora, Carla Soto, as well as Santee Smith.
Also, about a month ago Tamara was featured in an article written for Indian Country Today. The article can be found here. I will also transcribe it to here in case it become unaccessible at that website. And I'm still working on the article from SAY magazine.
August 9, 2003
I still haven't scanned the picture of the Podemski sisters mentioned two months ago, but I'll likely get to that this weekend. All three are also featured on the cover of the summer issue of SAY magazine. It's not available in stores (except in Winnipeg) but if you email them they can direct you as to how you can receive a copy without having to purchase a subscription. I'm going to scan the pictures and transcribe the article when I have time...so it'll be on here soon if you aren't able to get a copy yourself.
As for recent an upcoming news, Tamara performed a 40 minute set at the El Mocambo in Toronto this past Wednesday (Aug. 6) and was absolutely wonderful. She sang from her two cd's in Ojibwa as well as several new, original songs in English that she's been working on. If you missed the performance Wednesday, you can catch Tamara performing at The Oasis this coming Monday night at 9pm along with Leela Gilday. All of the info is provided in the ad below, so you should come check it out!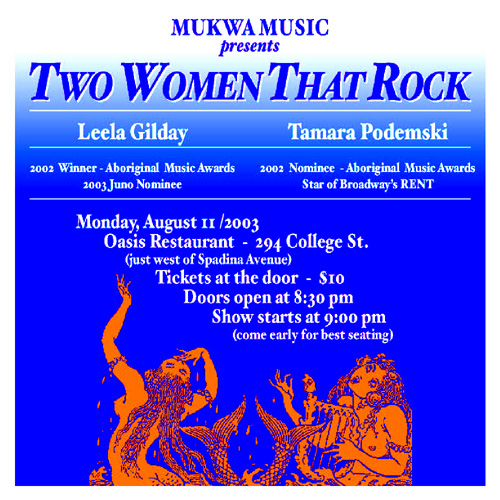 June 15, 2003
There is a picture of Tamara and her sisters Jennifer and Sarah on the centre page of the Arts section in the Toronto Star today, but the picture does not seem to be available online. I'll scan it when i have a chance. Also, this coming Saturday (the 21st) is National Aboriginal Day. There are various events in the days leading up to the 21st...one of which includes Tamara singing down at Nathan Phillips square on the 17th (this Tuesday) in the afternoon. So, go check out that website
April 6, 2003
The 2003 National Aboriginal Achievement Awards will air tomorrow night (April 7th) at 8pm est on CBC. Tamara has choreographed the dance numbers and she and her younger sister Sarah will both be dancing.
March 5, 2003
More news already! Tamara will be taking part in V-Day celebrations in Toronto on Monday March 31, 2003. She is listed there as part of the cast but I'm not sure if she will be performing part of the Vagina Monologues...she did say she will be singing one (some?) of her own songs (but isn't listed under musicians...now I'm confused). Her sister Jennifer will also be part of the festivities. Anyway, the news has been passed...so go support an amazing cause! I would if I had the money to and could be in Toronto on a Monday night.
February 7, 2003
Just a few quick things. The episode of Buffalo Tracks that Tamara was on quite a while ago is being rerun on APTN Sunday at 2:30am EST. Also, Tamara is in the new North of 60 movie. Seems she doesn't have a major role in the movie...but her character's fate continues with that of several other roles she has played (if you can't figure it out, as and I'll fill you in.) There is a video clip in the previous link and here's a link to another video clip. (if that link doesn't work, try keying in http://www.aactv.com/db/title.asp?Title_Id=55445&TemplateID=29&IDlang=1 ...I'm not positive it will work as a link). I will soon post links to some new articles and interviews, but I wanted to get this up before the events passed.
November 30, 2002
It would probably be helpful if I got information in here about events that have yet to happen, but no such luck thus far. So, the group that Tamara is in, Spirit Nation, was nominated for a Canadian Aboriginal Music Award, which were presented Thursday night at the Canadian Aboriginal Festival. She did not win, but said she would lose to the group who did won again any day. And why do i know she said that? Because she performed at the Tequila Lounge last night as a guest performer for Rez Bluez and was phenomenal. She looked great and sounded better than I've ever heard her. She sang Etta Jones' At Last and a song whose title I can't remember...and they both sounded just amazing. Tamara was also featured in the GTA section of the The Toronto Star earlier this week and i will have the article up with the picture as soon as i have a chance. Unfortunately, i think that's about it for now.
April 16, 2002
Not too much to report. If I'd found out sooner, I would have posted that Tamara performed the opening number at the National Aboriginal Achievement Awards, that aired tonight on CBC. She sang Ododaymiwan from her new-ish CD. She was also a guest chef on Cooking With the Wolfman which airs on ATPN, but that was nearly a month ago now. I hope to have more to report sometime soon.
December 3, 2001
I finally have enough new information about what Tamara is currently doing to have a section devoted to it. So, here goes...
Big news for Tamara these days...she has a CD out! The album is called Spirit Nation: Winter Moons and was released October 23, 2001. It is a really interesting combination of Ojibwa/Saulteaux and Hebrew lyrics, all of which were written by Tamara. She also wrote some of the songs themselves. It is currently available all over, so go buy it!
Yesterday, Tamara took part in a performance of the beginning stages of a new musical, Seder. It is projected that a workshop version of this show will occur in late spring or early summer of 2002 in Toronto. The completed product should be ready for the Pesach season of 2003. Seder is described as "a new theatrical work that centers on teh theme of Passover and expresses Jewishness in new ways. It is a story about the celebration of freedom, continuity, and renewal. It is created by a team of young, professional artists for audiences of all ages. Though Seder is a family and community event, the Seder's artists are passionate about reaching out to all generations, young and old. 'Seder' accomplishes this in a unique and inimitable fashion - through music that blends traditional Yiddish and Klezmer tunes with block rocking beats. Singers, cantors, musicians and DJs perform this music live."
As for what she does to fill the days, Tamara is currently attending the University of Toronto, where she is studying Aboriginal Sudies, Hebrew Language and Literature.