◄ BACK

Aboriginal festival gathers a culture
Performer recalls journey to reclaim her native roots
All are invited to hands-on look at Indian culture
By Maureen Murray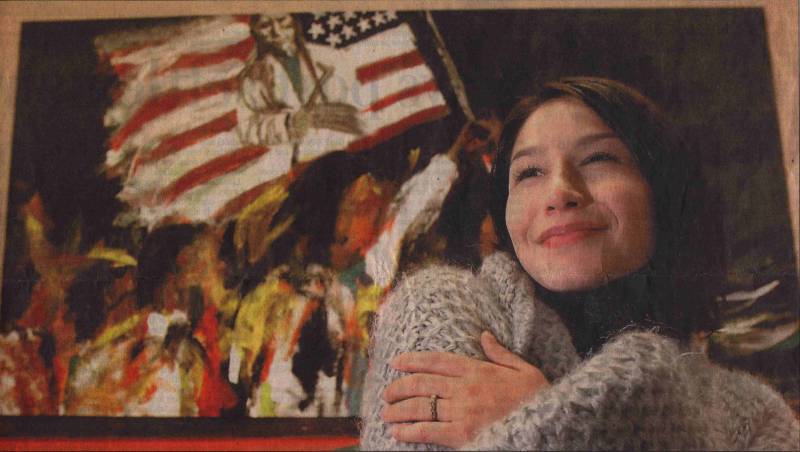 Tamara Podemski's usual joyful disposition was shaken.
At the age of 22 the actor/singer had already conquered Broadway, but here she was fumbling and struggling to learn a dialect of her native tongue.
Her Mushum and Kokum (grandfather and grandmother) - casualties of a residential school system - had chosen not to pass on their birth language, Ojibway, to their seven children.
"It was very frustrating. It was tough, this process. I got so andry at the 500 years of cultural genocide," said Podemski, now 25.
"I was trying to learn a language from a 70-year-old many, who doesn't get to speak his language much and so he was losing it," Podemski said, her eyes misting with emotion.
"I wanted it so badly," said Podemski, who took the Ojibway language course as part of her aboriginal studies program at the University of Toronto.
Amazingly, within a year of trying to grasp the language, Podemski wrote lyrics in Ojibway and sang vocals on a CD called Spirit Nation, which received a nomination at the Canadian Aboriginal Music Awards, being presented tonight.
The award ceremony at the SkyDome kicks off four days of activities in Toronto that bring together artists, dancers, singers, musicians, writers, busness people and elders from across "Turtle Island" - the name aboriginals give North America.
The Canadian Aboriginal Festival is the umbrella for a flurry of events taking pace in the city. The highlight is a weekend pow wow (sponsored by the Toronto Star) that should attract more than 1,000 traditional dancers in full regalia and some 30,000 spectators for the two days of dance cometition.
It's more than a festival: it's the convergence of a culture.
For urgan aboriginals in particular, it's the chance to get a much needed dose of their spiritual roots.
"If you didn't know there was an Indian culture in this city, you come to the pow wow and you'll find it," Podemski said.
After all, Toronto means "gathering place," the name the Seneca people gave to the area, said Ron Robert, co-ordinator of the nine-year-old festival.
The festival also includes an educational component that will bring 7,000 school children to the SkyDome for a hands-on look at true native culture in hopes of banishing misconceptions born of Hollywood's version. An economic development conferences is also being held at the SkyDome hotel today and Friday.
Rez Bluez, an evening of native blues musicians, has been timed to coincide with the festival tomorrow night at the Tequila Lounge on Bathurst St., where Podemski will be among the performers. On Saturday night, the Native Canadian Centre will take over the Horseshoe Tavern on Queen St. for a night of "Indian rock." There is even a native comedy show planned and a new urban aboriginal magazine is staging its launch.
Podemski is best known as an actor for two seasons on the CBC TV drama The Rez. She was part of the original Canadian cast of the musical Rent and went on to star in the Broadway production.
She is a product of two ancient cultures. Her mother belonged to the Saulteaux nation (related to the Ojibway) and her father is the son of a Jewish Holocaust survivor.
"Both cultures were allowed to breathe in the hold," she said.
Podemski's grandfather gave up the family's official native status when her mother was a small child. Ottawa was offering about $2,000 for natives to take this step, Podemski said.
Podemski journeys back to Israel on a regular basis and is trying to start a Jewish fold dance group, but this weekend is about immersing herself in her aboriginal culture.
The Aboriginal Festival is a yearly highlight for many - particularly aboriginal people who live in the city.
"The need is very big for the urban Indian to converge with other native people because we're not in a community setting like a reserve and we don't have a neighbourhood we can go hang out in," Podemski said. "We need to get together.
"The SkyDome has Astroturf and it's not your quintessential pow wow feeling, but we love it because it's when we get to see everyone. Indian country is very small, everyone knows everyone.
"Pow wows in general are the peak of celebration. It's a place where people can reconnect spiritually. It's okay to celebrate your Indianness. It's your right.
"These are things that were forbidden by government policy. We were not allowed to gather. We were not allowed to dance. We were not allowed to sing," Podemski said.
Robert, 65, said that, for some, attending the yearly festival has led to a spiritual reawakening. "I remember one guy who came up to me and he was drying. He told me how he had started turning his life around after attending his first festival. I was almost in tears," he said.
But Robert stressed that the Aboriginal Festival is not an Indian-only gathering, and the hope is to attract all Torontonians who are interested in a taste of authentic native culture.
Astroturf notwithstanding.