◄ BACK

North York performer in good Spirit after award loss
By Sam Laskaris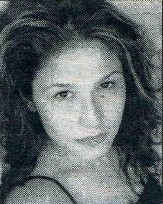 She didn't win this time, but North York's Tamara Podemski said her time will come one day soon.
Podemski, 24, is the lead singer for Spirit Nation, which had been nominated in teh best group/duo category at the Canadian Aboriginal Music Awards held this past Thursday at SkyDome.
But the five-man Pappy Johns Band, a collection of musicians from southern Ontario and the state of New York, ended up winning the national award.
"no, not at all," said Podemski when asked if she was disappointed at not winning the Canadian award. "I was in very, very good company. And if you've ever heard the Pappy Johns Band, you'd know it's hard to beat them."
Alberta's Northern Cree Singers had also been nominated in the category.
Podemski wasn't surprised with the success of Spirit Nation's 'Winter Moon', its first released work. And she wasn't surprised to see it earn the band a nomination for a national award.
"I think it was a good album," she said. "I was more just overwhlemed that I'm in the company of these musicians. It was a real honour to be here among all these people."
Podemski has been performing since the age of nine when she was the lead singer on a children's album.
"I don't ever know if I thought my time was running out or whatever facade youth have that they're going to be young forever," she said. "But I always felt I was never too young to get started. I really love what i do. So it's hard to keep the creativity at bay.
"That's basically it. The ideas keep coming so what are you going to do? You just write them down and keep them in a drawer? No, you've got to act on them. So that's my situation."