◄ BACK


Tamara Podemski--Nishnawbe in New York
For a young performer from Toronto, Tamara has always dreamt of being on the big stage or in front of the camera. Her dreams came true when she auditioned for RENT, a rock 'n' roll musical, and got the part. She soon moved into one of the lead roles and eventually was asked to join the cast in New York, on Broadway. Her sister Jennifer, also an actor, has been with her from the beginning and has chronicled some of the events leading to her sister's Big Apple success.
By Jennifer Podemski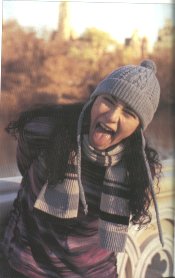 Tamara's Journey...
For a young performer from Toronto to rise to Broadway was a natural progression fraught with late nail-biting, last minute auditions and near-damaged vocal chords.








Did you ever dream about being a famous Broadway star? Dancing and singing on a massive stage and bowing, night after night, to a cheering audience of thousands.
Tamara Podemski now lives this dream. Her stage is on Broadway where she stars in the Tony Award and Pulitzer Prize winning musical, RENT. It took a lot of work and many nail-biting days but at 21, she has made it in the big leagues and loving every minute of it.
It all began on a cold afternoon in February 1997. Tamara was rehearsing a dance piece for the Canadian Aboriginal Achievement Awards in the basement of the Canadian Broadcasting Corporation (CBC) building in Toronto, Ontario, when she called home to check in with our father, Saul. "He told me that he read about an open call audition for this big musical, and he suggested that I try out. The only problem was that the audition was the next day and I had nothing prepared."
Tamara put in a call to her agent and arranged for a private audition. With less and 24 hours to prepare she decided to give it a shot.
The next morning she stumbled out of bed and went to get some breakfast. "I walked into the kitchen still in my pyjamas and my dad asked me what I was doing, so I told him that I decided not to go to the auditions. I had learned the lesson of rejection already and I didn't' need to waste my time on a long shot. He basically told me that I had no right assuming what was a long shot for me and that none of my efforts in this business were a waste of time."
He was absolutely right. Tamara bolted to her room, threw on some clothes and make-up and began searching for some sheet music. There was a problem. All of the music she has used in the past had proven unsuccessful and was probably too "show tuney" for what was supposed to be a rock 'n' roll auditions. Luckily, there was an Alanis Morrissette song which she knew most of the words to and it didn't require any musical accompaniment. The life expectance of most musical theatre auditions is between 8 and 16 bars of music, which are usually &nbsp interrupted.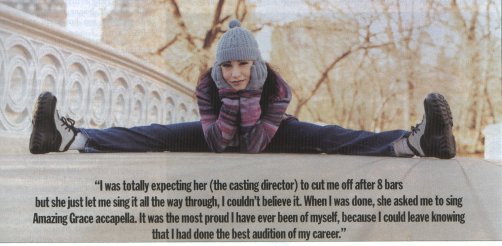 " I was totally expecting her (the casting director) to cut me off after 8 bars but she let me sing all the way through, I couldn't believe it. When I was done she asked me to sing Amazing Grade accapelle. It was the most proud I have ever been on myself, because I could leave knowing that I had done the best audition of my career." As she was walking out the book the casting director ran after her. She handed Tamara a monologue and a song from RENT and urged her to buy the CD.
Two days later she was off to Calgary to rehearse and perform at the Achievement Awards. The moment she arrived, Tamara bought the CD, locked herself in the hotel room and diligently went over the song and monologue over and over and over again, between and after rehearsals. Being a dedicated go-getter, she lived and breathed RENT from that moment on. Needless to say, this time she was completely prepared for her callback.
At the callback, Tamara found herself in a terrifying yet humbling atmosphere.
"There were about 50 people there this time and after talking to a few of them, and overhearing a lot of them, I realized that they all had tons of musical theatre experience. I felt so intimidated, like I was back at the beginning, starting from scratch," she says. Despite feelings of insecurity and fear, she used every molecule of confidence in her being and marched into the room. This time around, there were two casting directors, one who had seen her before and a representative from a large casting agency from New York.
"They had me sing the song three times. Then I did the monologue. I was in there for 20 minutes and I knew something was up. They kept giving me direction and gave me so much information about the character. It was like she was trying to tell me that she wanted to see me again without actually saying it. Then they said thank you and I left. I was confused."
Now, every actor knows that when a casting director communicates with you to that extreme, it can only mean something positive. And it did. After three days of biting her fingernails to the bone and practically driving herself (and her family) crazy, Tamara got a call from her agent. The next auditions wasn't' for another month and a half. This meant that it would fall smack dab in the middle of the hectic shooting schedule for the Canadian Broadcasting Corporations (CBC) series The Rez. As if that's not enough pressure in itself, Tamara knew that the next time she auditioned, she would have to supercede perfection.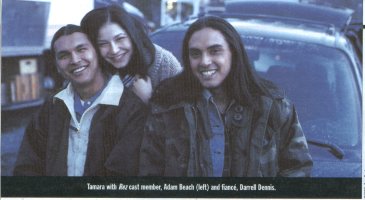 "The pressure was so intense, I knew that because I had such a long time to prepare, I had to attain their expected level of performance." For the next month and a half Tamara split her focus between shooting The Rez and preparing for her second callback. Knowing there were specific steps she had to take to ensure a successful audition. She took private vocal lessons as well as private acting lessons to perfect her monologue, and classes at renowned dance school to brush up on her dancing.
In March she was in Parry Sound, north of Toronto, shooting The Rez. By the end of the first week the entire cast knew all of the words to the musical because it was playing wherever they were. The cast anticipated Tamara's next audition as if all of their futures depended on her getting the job.
"Everyone was so supportive, the producers arranged for me to have the day of the audition off work. And my mom (Joanne) was in Parry Sound so she stayed longer to drive me to Toronto and then back to Parry Sound."
Everything fell perfectly into place. On May 6th Tamara and Joanne drove three hours to Toronto and went directly to the audition at Randolph Theatre.
"There were about 100 people coming in and out. We were the last of the 6,000. The worst thing was that the walls weren't even attached to the ceiling so you could hear everyone's vocal audition. These people had the craziest voices, better than any of my favourite singers, it made me so nervous."
Once again, the fear factor was high but Tamara knew that she couldn't give up, she'd come so far. The auditions proved to be an exhausting experience. She sang the song four times and continued by performing the monologue three times in front of the entire production team of RENT. When she was finished, they asked her to stay for the dance portion of the audition.
"They asked us to have sex with the wall. To feel sexual frustration and desperation and they wanted us to interpret that though dance. It was the most amazing audition experience ever and I knew that even though I did my absolute best, I fully accepted that I didn't get it." Back on set less that 24 hours later, Tamara was in the middle of shooting a scene in a car with actor, Adam Beach, with the second assistant director held her pager to the window. It read TAMARA PODEMSKI CALL YOUR AGENT. Her excitement immediately transformed into frustration with she realized she couldn't get out of the car for another half-hour.
"It was so hard to stay calm and continue with the scene. I couldn't wait for it to be over. I didn't even know if she was calling to say that I got the part of that I didn't, whatever it was I just wanted to get out of the car."
As soon as the scene was over she grabbed the closest cell phone and called her agent. Sure enough, she got the job. As she was on the phone our mother Joanna drove up to the set and witnessed the whole thing from afar.
"All I saw was Tamara at the side of the dirt road on a cell phone, she let out a scream and began crying hysterically then collapsed to the ground," Joanna says. "I was so worried, everyone was just silent and staring at her."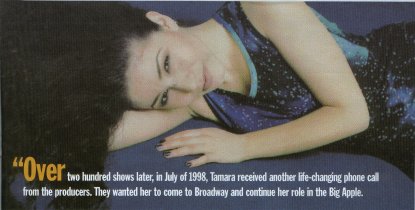 Although she wasn't cast in the role she originally auditioned for (Maureen), she was hired as the understudy as well as a wide array of ensemble characters.
The Rez wrapped for the summer and Tamara enrolled once again in voice classes and dance training. She wanted to be sure that she was prepared and in shape for rehearsals which would begin in October. Six weeks later, Tamara was back in Parry Sound for another five weeks of shooting. The Rez wrapped up its final season and a week later, she began rehearsals for RENT.
Tamara was born and raised in Toronto to a Saulteaux mother and Jewish father. She is a graduate of the Claude Watson School of the Performing Arts where she studied theatre, music, and classical and modern dance. Early musical experiences include performances at the United Nations in New York with Raffi, singing back-up with the Nylons and live performances for Nelson Mandela and Coretta Scott King.
She received a Best Actress nomination at the Youth Television (YTV) Achievement Awards and participated in the 1996 Aboriginal Dance Project at the Banff Centre of the Arts. Tamara continues to study traditional Native dance and has performed in Pow Wows across the country.
The story of the musical RENT is a contemporary version of Puccini's La Bohème with characters taken from the life of playwright and composer, Jonathan Larson. People from all walks of life colour the play with realism. There are homosexuals, drug addicts, recovering addicts, AIDS victims, struggling artists and homeless people.
Although the subject matter seems depressing, it is actually an uplifting story because Jonathan's view of life was so inspiring. The real life story is far from uplifting. Jonathan Larson literally gave his life to this show. Years of endless rewrites and work-shopping eventually led to a six-week off-Broadway run. On the first night of previews, without ever having the chance to an audience respond to his musical, Jonathan Larson died instantly of an aortic aneurysm. Knowing that RENT is a living legacy of Jonathan, is enough to make for an extremely intense emotional journey during rehearsals.
"Jonathan's father and friends would come to some rehearsals and share stories with us," says Tamara. "It was a really difficult time for the cast, but going through that together was what bonded us tighter than most companies could ever hope for. Crying sessions were frequent and welcome and I asked the musical director of it was always going to be like this and he told me not to worry because it would get easier each day. But you always get caught up in it. At least I do."
All in all, through the tears, the fives weeks of rehearsal proved successful. RENT opened in Toronto December 7th, 1997 at the Royal Alexandra Theatre and continued to dazzle audiences for the next eight months.
Over two hundred shows later, in July of 1998, Tamara received another life-changing phone call from the producers. They wanted her to come to Broadway and continue her role in the Big Apple.
There were endless good-bye parties and luncheons, but the real excitement come on the night before she left. After a huge party, Tamara decided to march over to the home of her boyfriend, fellow Rez actor Darrel Dennis. With entourage in tow, she called up to his sixth floor apartment. Darrel stumbled out of bed and come out to the balcony, and in a voice that probably awoke the entire neighbourhood she yelled, "Darrell Dennis will you marry me!?" A completely stunned Darrell fell silent for a few seconds and when he came to, he graciously accepted. The rest, shall we say, is history.
In October, she was already into her third month on Broadway with a year of RENT under her belt, and although she loved it, her voice was becoming tired and stressed out.
"It's an extremely demanding show. It's not like regular musical theatre, it's very rock 'n' roll, very physical and tends to be harsh on the vocal cords. Not only that, but the emotional toll it was taking on my body and mind was so intense."
Tamara wasn't the only one having problems. The girl who played Maureen, which is the role Tamara understudied, had to take a leave of absence due to severe vocal problems. This created an opening for Tamara.
"For the four months since I arrived, I performed the role of Maureen more than the first who actually played her."
In the end it was a blessing in disguise. In the first week of November she was offered the role of Maureen. Although she was half expecting it since she was the understudy it still came as a surprise. It also meant that she had to take care of her own vocal difficulties considering she would be performing more vocally demanding material. She was back in rehearsals almost every day and still pumping out eight shows a week.
"Tamara is just a hoot to work with and I am so glad she is part of the cast. She really brings a positive and young energy to the show and her interpretation of Maureen is so convincing. I love working with her," says Shayna Steele, a member of the cast.
Maureen is one of the most exciting characters in the show according to some. She is a lesbian performance artist with an overwhelming sense of narcissism. Aside from the narcissism, it's as if the role was created for Tamara. Michael McElroy, also a member of the production, concludes that Tamara "brings an incredible sense of Canadian pride, Native Indian history, a sense of fantasy and craziness (to the role)."